Great Lakes Trophies & Engraving
32635 Ford Road
Garden City Michigan 48135
OUR TEMPORARY HOURS UFN: 10:00am to 5:00pm Weekdays
Closed Weekends (Saturday by Appointment Only)

* We do monitor our email and voice messages after hours *
Phone: 734-266-1815
Fax: 734-266-1817

(Emergency Phone Number: 734-664-6464)

About Us
Since 1995 we have been serving the awards needs of the Garden City and the greater Detroit, Michigan area and have established a business that is known for its numerous sports trophies and unique corporate awards. Great Lakes Trophies & Engraving offers everything from trophies, plaques, acrylics, medals, ribbons, name badges, plastic signage, and full color sublimation. Also we are your one stop source for promotional products and advertising specialty items.
Our unique ability to laser engrave or full-color imprint your photograph, or scan and incorporate your corporate or custom logo or team graphic onto your trophy or award, is a service you can utilize. Our laser engravers also produce amazing results on leather goods or wood products. State-of-the-art rotary and laser computerized engravers that use the latest software produce amazing results that will make your award choice stand out from the rest of the pack. Do you need a rush order or require a custom logo or art work? This is our specialty! In stock are thousands of specialized graphics, clip art and corporate, Masonic, and fraternal logos that can be added to your award.
A complete inventory of the latest in award components and designs will assure you of an award that you can be proud to present or receive.
Great Lakes Trophies & Engraving is widely known for their friendly service, clean, newly remodeled, and well-lit showroom which proudly displays your next award choice. We have tremendous repeat business from our loyal customers, because of competitive pricing, terms, friendly service and prompt completion of your order.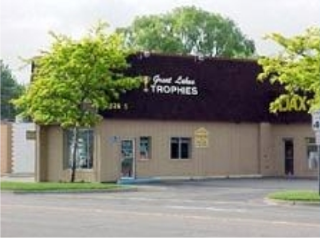 Located at 32635 Ford Road, the major thoroughfare of Garden City, MI (a SW suburb of Detroit). Great Lakes Trophies has convenient hours of 9:00 am to 6:00 pm weekdays. We are closed weekends. Call first if you wish to discuss your purchase or if you have any questions at: (734) 266-1815, then use the preferred methods of faxing your order (24 hours/day) to (734) 266-1817 or e-mail the order to: sales@greatlakestrophies.com
Of course you're always welcome to visit us personally and place your order the "old fashioned" way as well!
Repeat customers and word-of-mouth are our best advertisement. Most major credit cards, checks, or cash are gladly accepted. References are available upon request. As the working owner of Great Lakes Trophies, Ed Duprey along with his friendly staff that have a combined 80 years of experience look forward to hearing from you soon. Thank you for visiting today and please browse the rest of our website.
Our Modern Well-Lit Showroom